I love Pinterest! It really has changed how I'm doing a lot of my teaching and my husband says it's the best thing that happened for our kitchen. So when I saw that Amber at Adventures of a Third Grade Teacher was hosing a "I saw it on Pinterest" Link party I had to join ASAP! Head on Over to her Blog if you want to join up.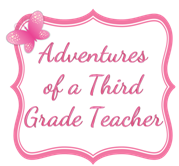 and you can follow me on pintrest by hitting the button on the right side of my blog...or here!

Now for my favorite Pinterest things...this was hard.
I could probably start a brand new blog on all the food I want to make but this is my new favorite thing that I haven't made yet!
These drinks will be delicious to drink on my deck with my fellow teacher friends.
I really want o better utilize my Reading notebooks for my kids next year. Along with their social studies, grammar, and writing. I have a lot of ideas that I found on Pinterest now I just need to pick and choose to figure out what works best for me. I actually think this weekend I am going to start a new Note booking Pinboard.
I also REALLY need to get more organized in my classroom. Teaching reading to two different groups of kids has been an organization nightmare. I really need some help!
I would also like to get more conference time in with my kids during writing.
And I want to make these along with many other crafty things to decorate my new house!
What things did you find that you can't wait to try over the summer?
Don't forget to follow my blog too to see some of my ideas I come up with over the summer!